Season 3 / Episode 66
Sam Curry is Cybereason's Chief Security Officer and an award-winning cyber security visionary. Sam & Ran discuss Sam's upcoming webinar, in which he will present his insights into what 2020 will bring for the security industry: the rise of 5G cellular networks, The US Presidential Elections, the 2020 Tokyo Olympics and more.
See here for more details about the webinar and registration form:
https://www.cybereason.com/2020-predictions-webinar-maliciouslife


Hosted By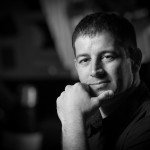 Ran Levi
Born in Israel in 1975, Ran studied Electrical Engineering at the Technion Institute of Technology, and worked as an electronics engineer and programmer for several High Tech companies in Israel.
In 2007, created the popular Israeli podcast, Making History, with over 14 million downloads as of Oct. 2019.
Author of 3 books (all in Hebrew): Perpetuum Mobile: About the history of Perpetual Motion Machines; The Little University of Science: A book about all of Science (well, the important bits, anyway) in bite-sized chunks; Battle of Minds: About the history of computer malware.
Special Guest

Sam Curry
CSO, CYBEREASON
Sam Curry is CSO at Cybereason. He is a security visionary and thought leader and has been interviewed by hundreds of journalists, has published broadly and has talked in media on security trends, threats and the impact of "cyber" on us all. He recently won an Award as a 30 year visionary from SC Magazine and is a Visiting Fellow at the National Security Institure. Previously, Sam was CTO & CISO for Arbor Networks (Danaher and NetScout) and was CSO & SVP R&D at Microstrategy in addition to senior, executive security roles at McAfee and CA. He spent 7 years at RSA (the Security Division of EMC, where he was a distinguished engineer and Fellow nominee) as CSO, Chief Technologist and SVP of Product. Sam also has 24 patents in security from his time as a security architect, has been a leader in two successful startups and is a board member of the Cybersecurity Coalition, of SSH Communications and of Sequitur Labs (in the IoT security space) in addition to a number of advisor-ships across the security spectrum.