Hosted By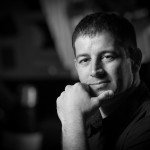 Ran Levi
Born in Israel in 1975, Ran studied Electrical Engineering at the Technion Institute of Technology, and worked as an electronics engineer and programmer for several High Tech companies in Israel.
In 2007, created the popular Israeli podcast, Making History, with over 12 million downloads as of Oct. 2018.
Author of 3 books (all in Hebrew): Perpetuum Mobile: About the history of Perpetual Motion Machines; The Little University of Science: A book about all of Science (well, the important bits, anyway) in bite-sized chunks; Battle of Minds: About the history of computer malware.
Special Guest
Dave Kennedy
Founder, Senior Principal Security Consultant of TrustedSec
Prior to starting TrustedSec, David was the Chief Security Officer (CSO) for Diebold Incorporated, a Fortune 1000 company, with locations in over 80 countries. He developed a global security program that tackled all aspects of information security and risk management. Kennedy started his professional career as a member of the United States Marine Corps (USMC), and was deployed to Iraq twice for intelligence related missions.

Co-Author of Metasploit: The Penetration Tester's Guide

Co-Creator of the Penetration Testing Execution Standard (PTES)

Creator of the Social Engineer Toolkit (SET)